Location Highlights
California
Stable mining jurisdiction
Fourth largest mineral producing state
Rich history of mining
Over 730 mines in operation in California
Hayden Hill
Past producing gold mine
Located in northern California
Acquired from Kinross
Easy, year-round access
Nearest town, Susanville pop. - 15,064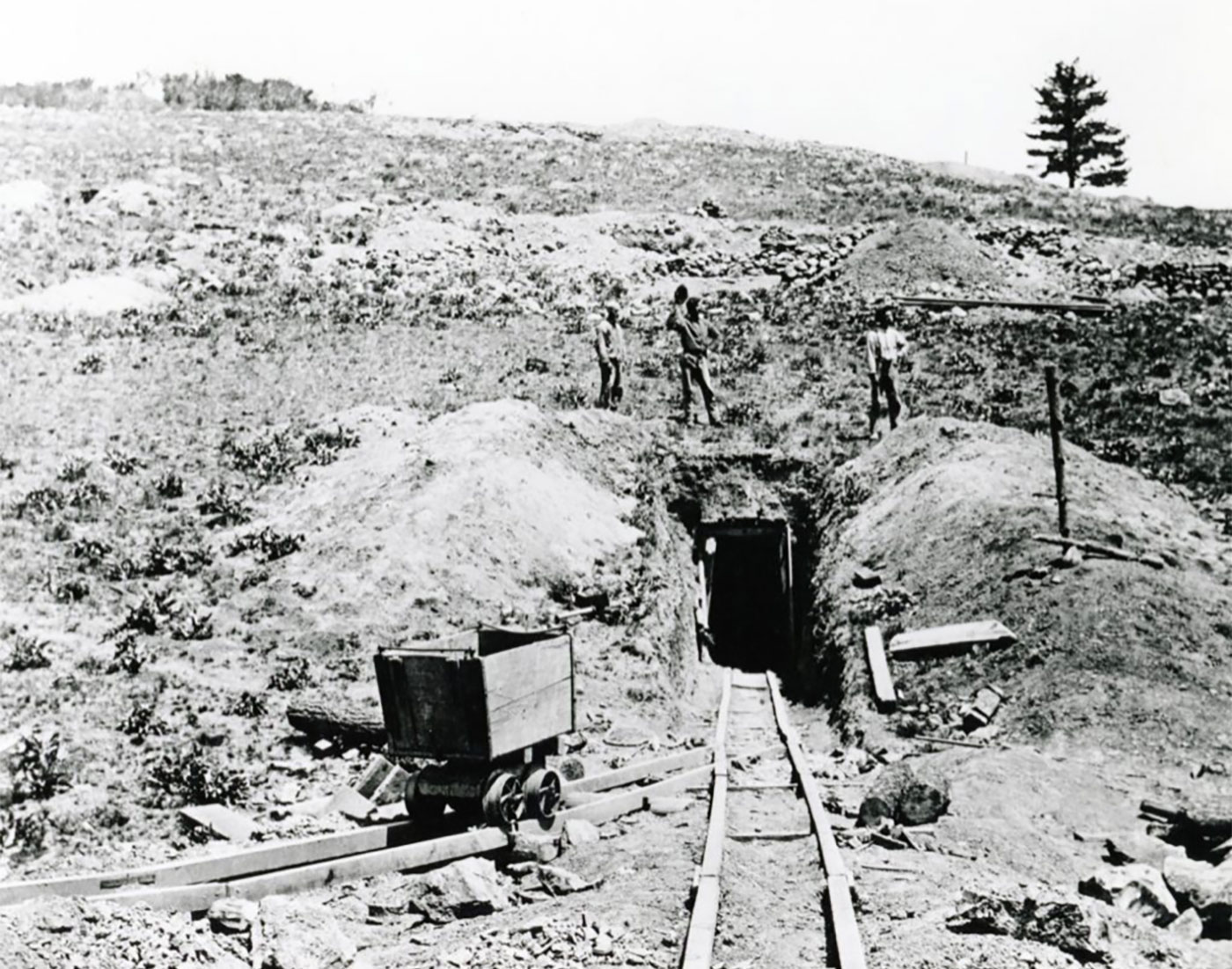 Property History
The Beginning
Discovery of the deposit is credited to a party of travelers in 1870. High-grade gold was found in a spring on the south side of Hayden Hill. High-grade production, along veins, from multiple underground mines.
The modern era of mining at Hayden Hill commenced in the mid-1970s with exploration programs by Fischer-Watt Mining Company among others. A series of joint ventures with Lacana Mining Corporation and Peco Resources Ltd. for exploration and development, including drilling, followed in the 1980s.
In 1988 and 1989, Amax Gold, Inc. in partnership with U.S. Gold Corporation (formerly Silver State Mining Corp.) further explored the deposit, primarily in the area that was to become the Lookout Pit.
Development of the mine started in 1991 by Lassen Gold Mining, Inc., a subsidiary of Amax that acquired the interests of U.S. Gold in 1990, and production began in 1992.
The Four Nines team recognizes significant exploration potential in the existing gold-silver deposit and significant additional opportunity to follow up on high grade drilling intercepts
ALTERIZATION & MINERALIZATION
Hayden Hill is a high level, epithermal gold-silver system
Completed initial 2D & 3D modeling of historical data
Three distinct primary mineral zones on the project
Additional mineralized areas identified
Higher-grade mineralization occurs within steeply-dipping veins & faults
Lower grade mineralization in favourable host rocks
Native, coarse-grained gold & silver
Degree of alteration and gold grades reported to be increasing at depth
Previous explorers (and thereby drill execution) did not initially recognize the structural setting & coarseness of the precious metals

PREVIOUS OPERATORS DRILLING
Joint Venture between Amax Gold and U.S. Gold
Large database of historical information (largely non-compliant)
Exploration holes: 327,514.5 feet of exploration drilling (dominantly reverse-circulation) in 742 holes (average length of 441 feet)
Blastholes: 112,235 production blastholes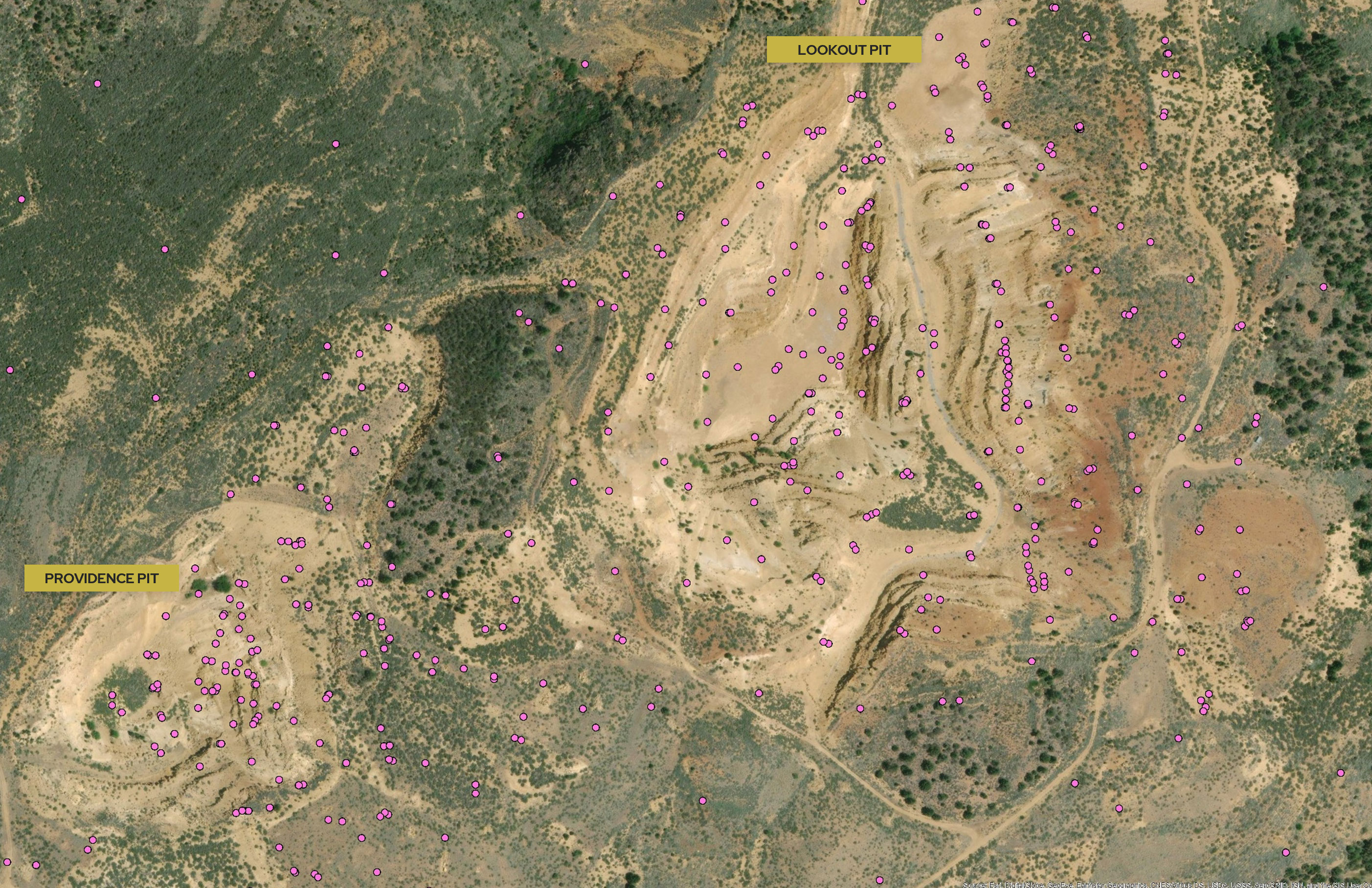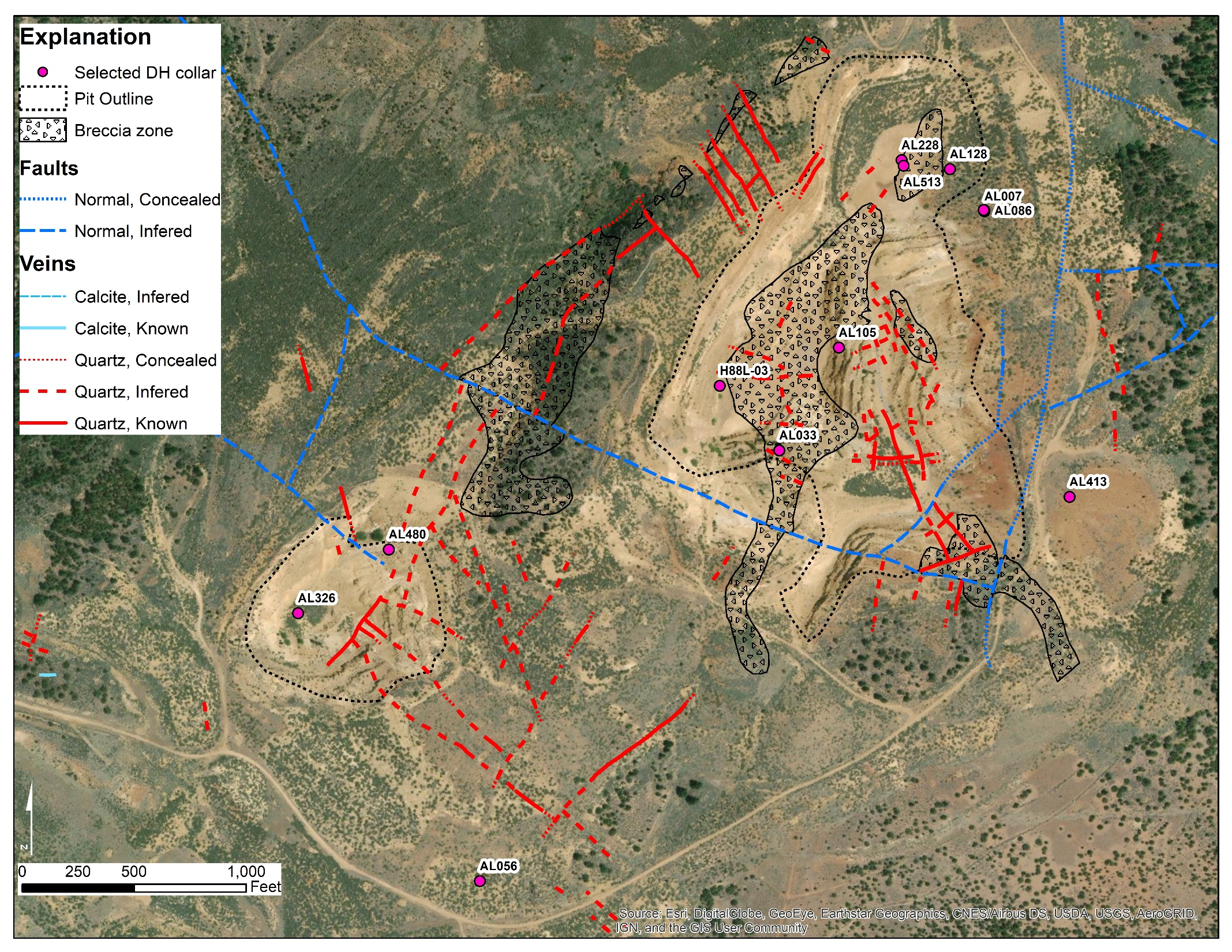 Exploration Targets
Vein systems developed within N, NE & NW trending faults
Hydrothermal vent breccias developed along faults & veins
Structural intersections
THREE DISTINCT PRIMARY MINERAL ZONES
PROVIDENCE ZONE
Providence structure/vein the "feeder" to the zone.
Multiple Bonanza- & higher-grade gold-silver exploration drill intercepts
Dynamic multi-phase hydrothermal alteration, textures observed
Highly attractive opportunity to explore to depth, and along trend to the North
A clear target for Bonanza-grade mineralization, at depth
Breccia bodies developed adjacent to the structure under-explored
LOOKOUT NORTH-SOUTH ZONE
Distinct zone of > 0.03 opt Au (over vertical extent), that is apparent also at a 0.05 opt Au cut-off grade
Blasthole data indicates position & orientation of a "feeder structure"
Exploration intercepts remain intact in the pit walls and beneath the pit bottom
Mineralization open along trend to N & S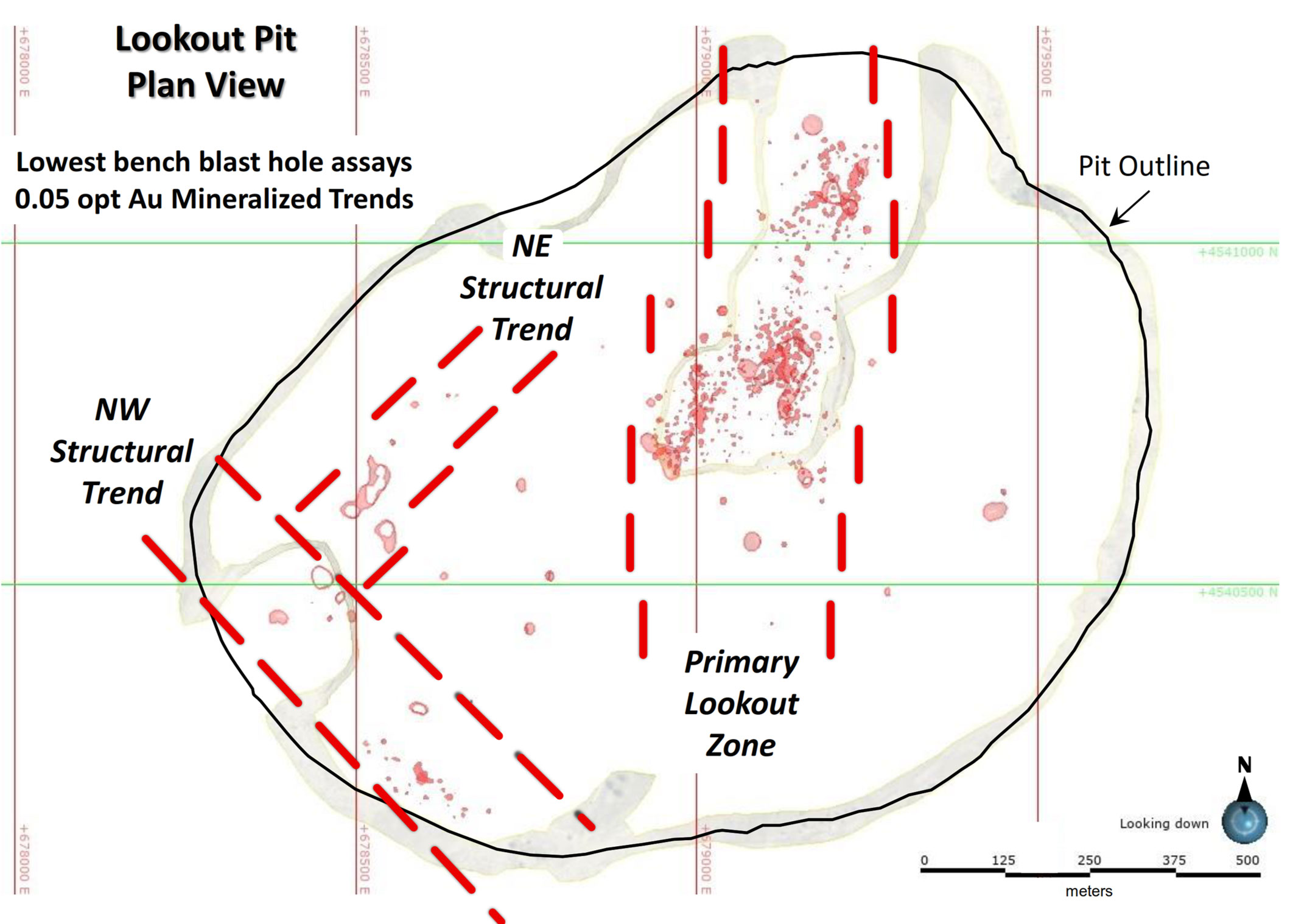 HIGH-GRADE VEIN ZONE
Includes the historical high-grade mines
Establishes the potential for additional Bonanza-grade mineralization
Higher-grade gold intercepts in exploration holes
Intersects the northerly trends (i.e., the Providence trend just south of that pit)
OTHER TARGETS: East Vein, Juniper Zone, Lookout NW Structure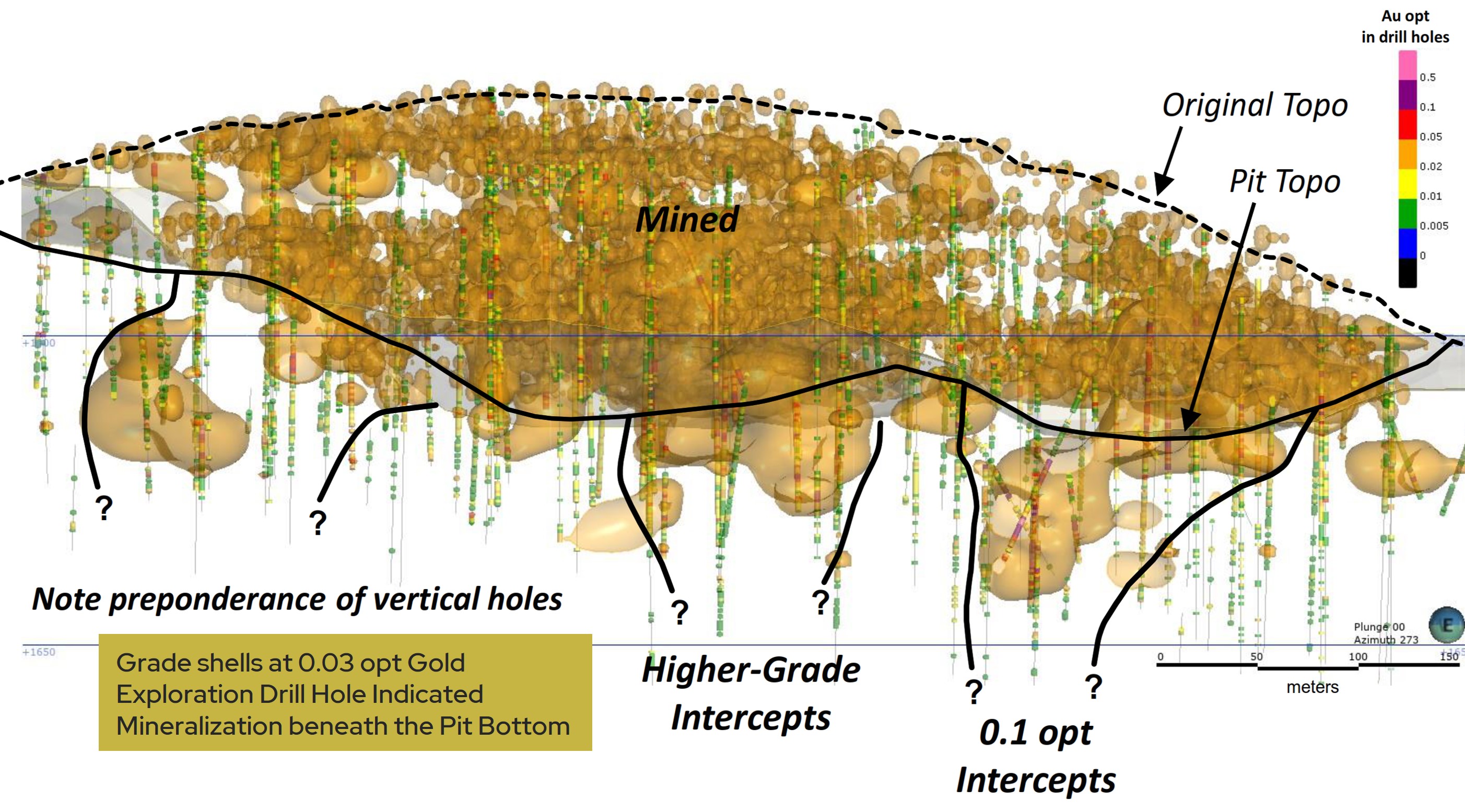 Unlocking Opportunity
Hayden is a high-quality exploration property with at least 3 primary mineral zones. Other known sites of mineralization are also present. Historical data sets have been compiled, analyzed & modelled and drill-indicated mineralization is open along strike and to depth. Substantial opportunity exists for definition of the following styles of gold mineralization:
Definable zones of "Bonanza-grade" mineralization (> 0.3 opt) in veins (at depth) and multi-phase breccias.
Continuous zones of higher grade (> 0.1 opt) in veins, stockworks and structural intersections.
Significant potential tonnage of + 0.03 opt: upper-levels of stockworks & breccias, smaller-scale structural sites, and regions of pervasive silicification.
Drill targets are defined, and a 2022 program has been planned.